Are you tired of choosing WordPress theme from Astra and OceanWP? Or don't want to waste any time to do "theme research" work for seeking a solid WordPress theme?
Web Stories version
You can also click this link of it for full Web Stories experience: https://facekungfu.com/web-stories/demo-blocksy-astra-oceanwp-compatibility/
Quick summary of a test result
The 10 Fastest WooCommerce Themes in 2021
At first, let's see a test result from an article posted by WP-Rocket.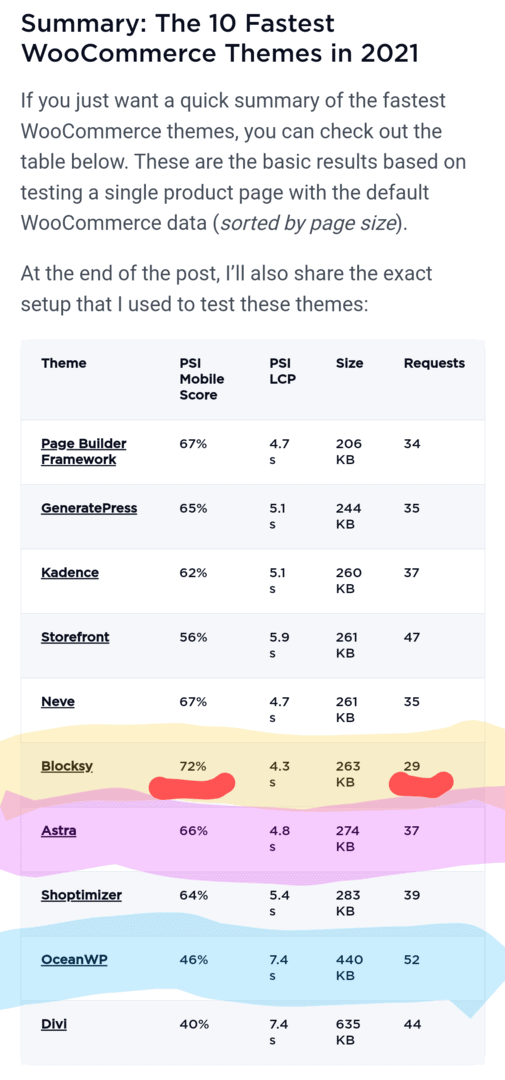 As you can see, Blocksy is the winner even then GeneratePress. What a good newby!
Here's a solid theme with trending UI design recommended for you: Blocksy.
But Astra and OceanWP are still good themes in many way, so let's review them first and then Blocksy.
---
OceanWP
OceanWP is one of old brands of multi purpose theme. Their Extensions and related functions compatible with WooCommerce is a well-known feature compared to their competitors.
OceanWP has released its new websites demo on 22th Jan 2021. They claim they are starting this year with no less than 27+ new website demos/templates.
Compatibility with builders of OceanWP
It has been loooong time to see something new from OceanWP. Let's see how are their website demo categories look like.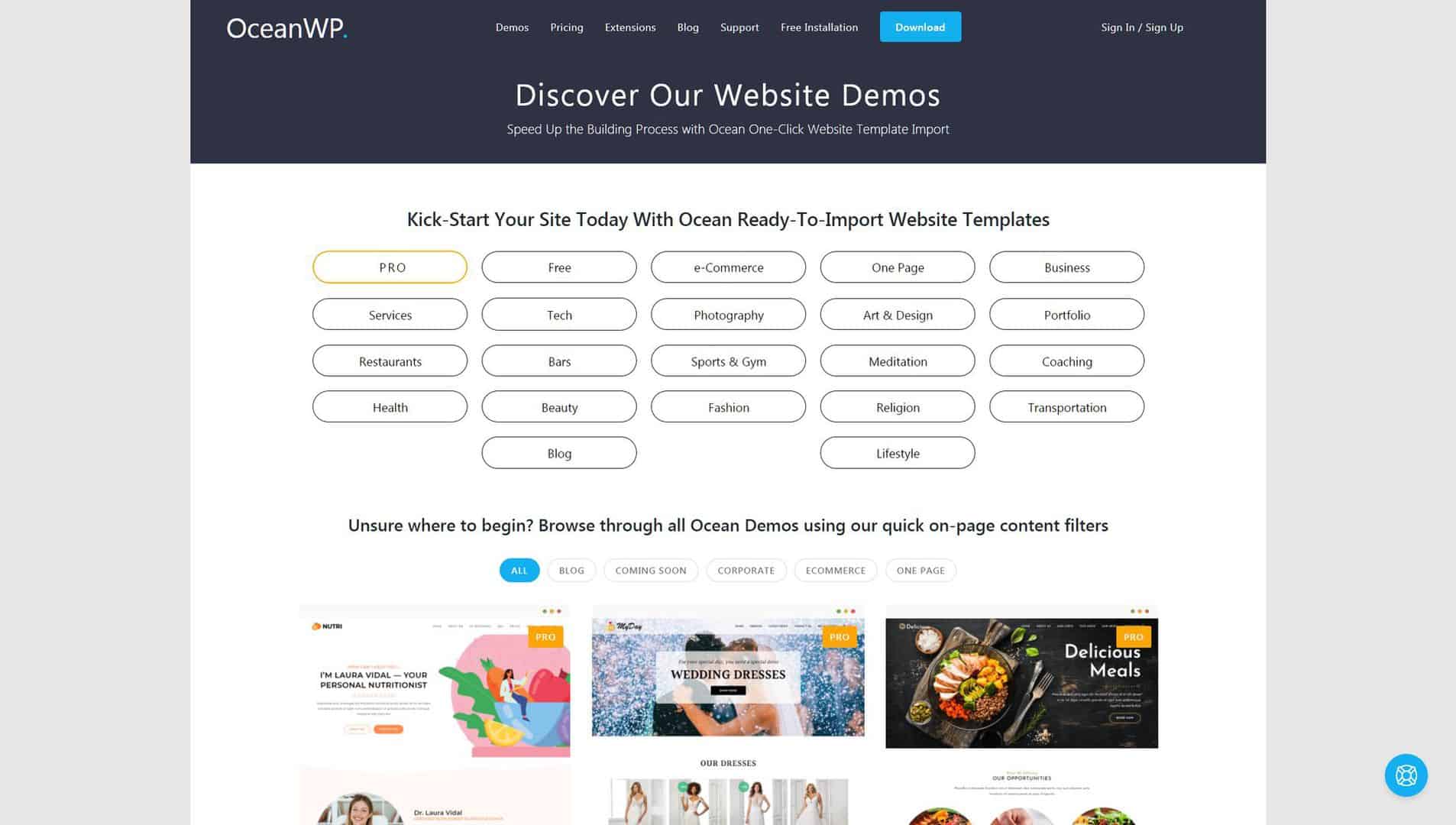 It looks like there are many filters for different type of demo, but they are just many buttons with links to the types of demo. You can find it out after clicked on anyone of them.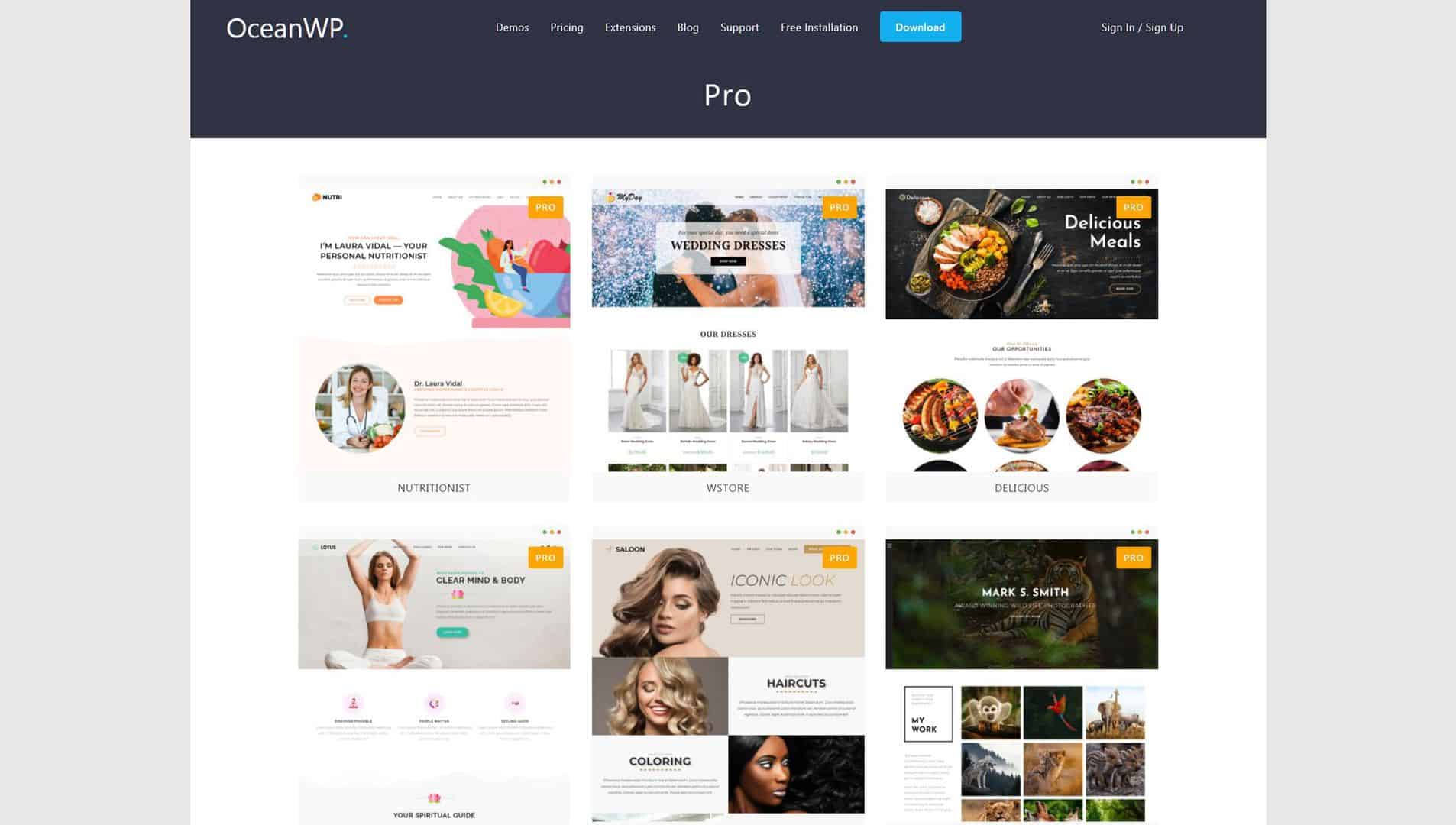 New demo page UI (updated in March 2021)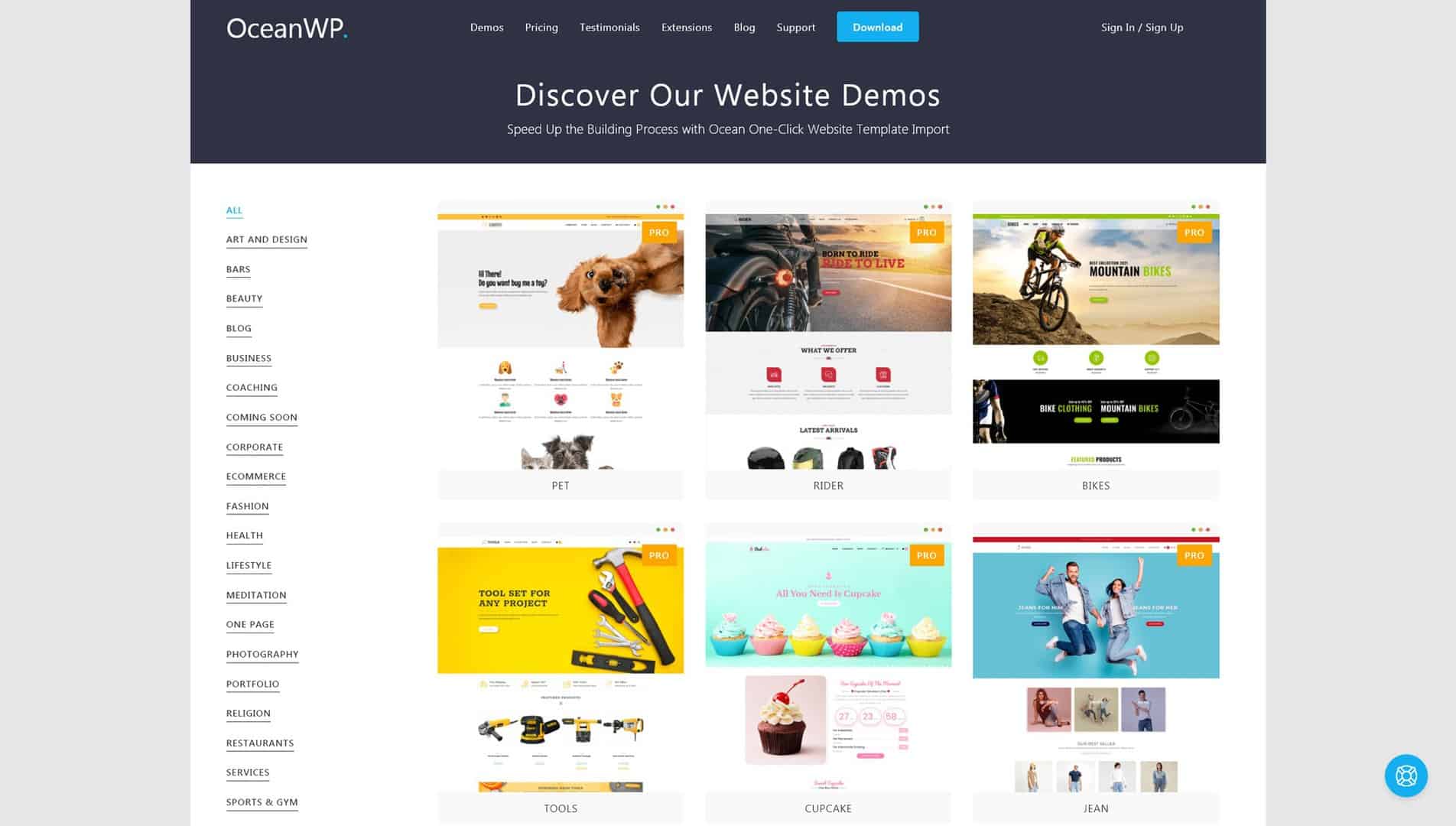 Disappointed, as above screenshot you can see. There are finally real filters for OceanWP's demo page UI categorizes the types of demo sites, but it still doesn't show the compatibility of page/block buiders.
It's not convenient for user who wants to realize the compatibility of them with builders no matter for Block Editor ( Gutenberg ) or page builders like Elementor, Beaver, Brizy or any others.
Official resources of OceanWP
OceanWP website: https://oceanwp.org/
OceanWP – The fastest growing theme for WordPress
Getting Started with OceanWP
---
Astra
Astra and OceanWP are both old brand of multi purpose themes. And, they are both stick to the ecosystem of Elementor – the most popular page builder in WordPress.
Compatibility with builders of Astra
Astra offers a large number of free starter sites, as well as lots more starter sites with the premium Agency version.
Astra offers starter sites with four different content editors:
Native WordPress editor (blocks) – 52 different sites – 52 free sites and 0 premium sites.
Elementor – 133 different sites – 60 free sites and 73 premium sites.
Beaver Builder – 106 different sites – 38 free sites and 68 premium sites.
Brizy – 40 different sites – 17 free sites and 23 premium sites.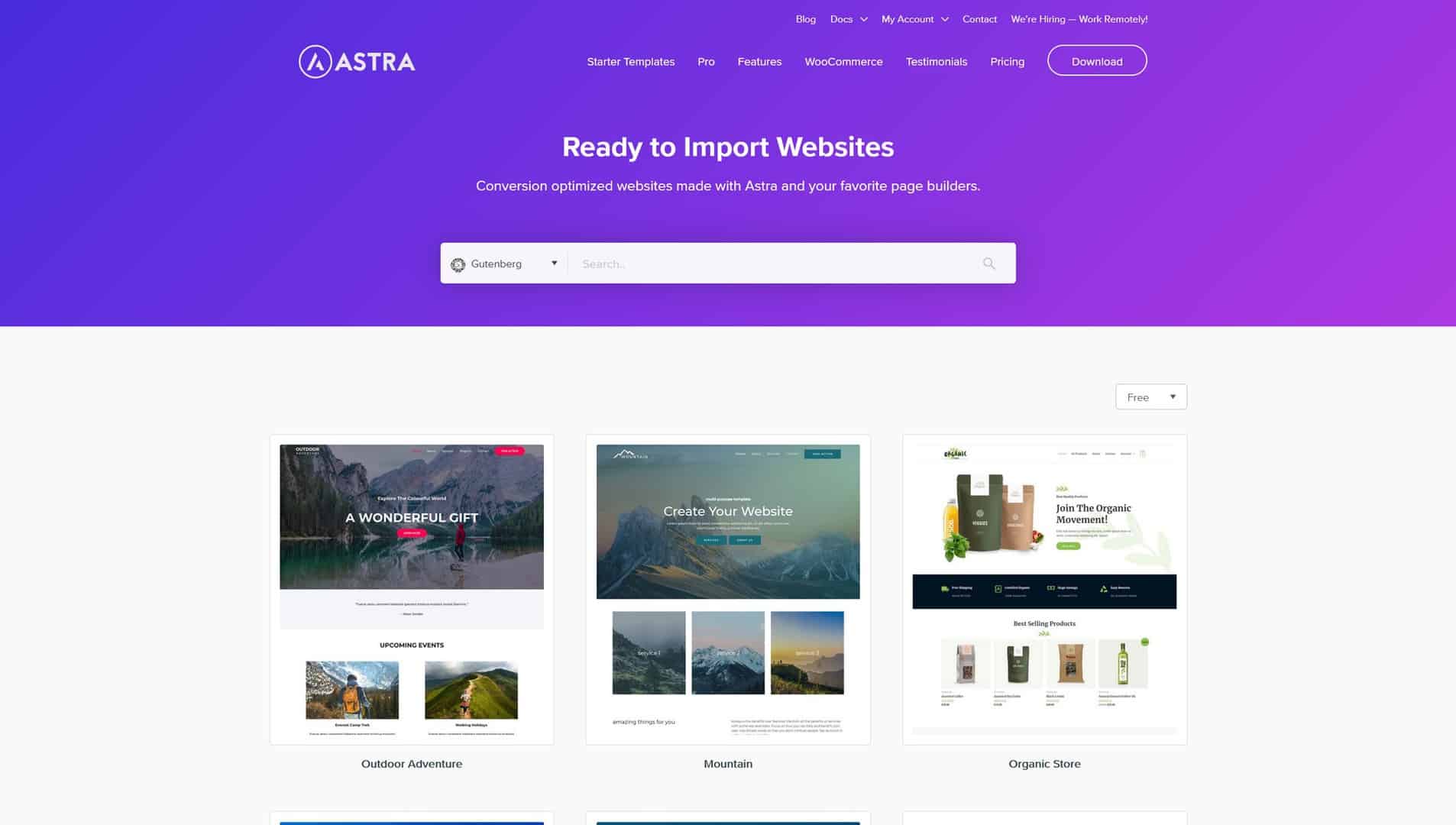 Gutenberg Block Patterns (updated in March 2021)
Starter Templates 2.6 brings you the easiest and advanced way to design Gutenberg websites using block patterns!

Announced by Astra on March 16, 2021
You can read it from this official article: https://wpastra.com/starter-templates-2-6/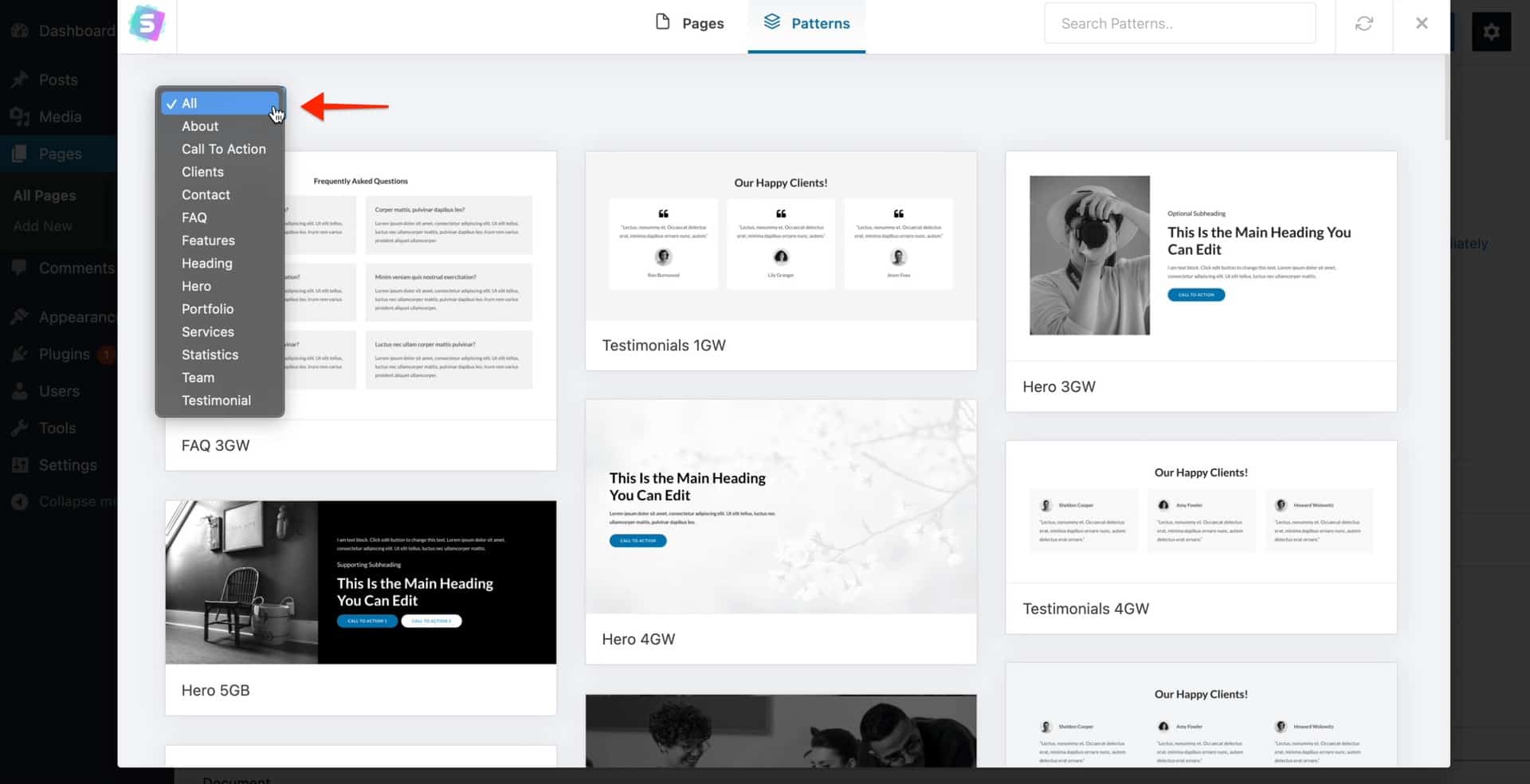 There are a number of categories for block patterns, designed to suit your every need.They include about, call to action, clients, contact, FAQ, features, services, teams, testimonials, and others.
You can choose any combination of block patterns to create your own unique page design. You can add, remove or replace any block pattern easily too.
Official resources of Astra
Astra website: https://wpastra.com/
Introducing Astra 3.0
Astra Starter Sites Demo and Installation Guide
---
Blocksy
If you find Astra's customization options insufficient for your needs, Blocksy might be an excellent choice. This theme offers powerful header styling options, a selection of page layouts for different purposes, and a global color palette. It's also intuitive and easy to customize with a drag-and-drop builder.
Blocksy also has very strong integration with the WordPress Customizer, allowing you to tune up basically any little detail that you see on the page. Plus, it's extremely fast while offering an array of advanced features.
Compatibility with builders of Blocksy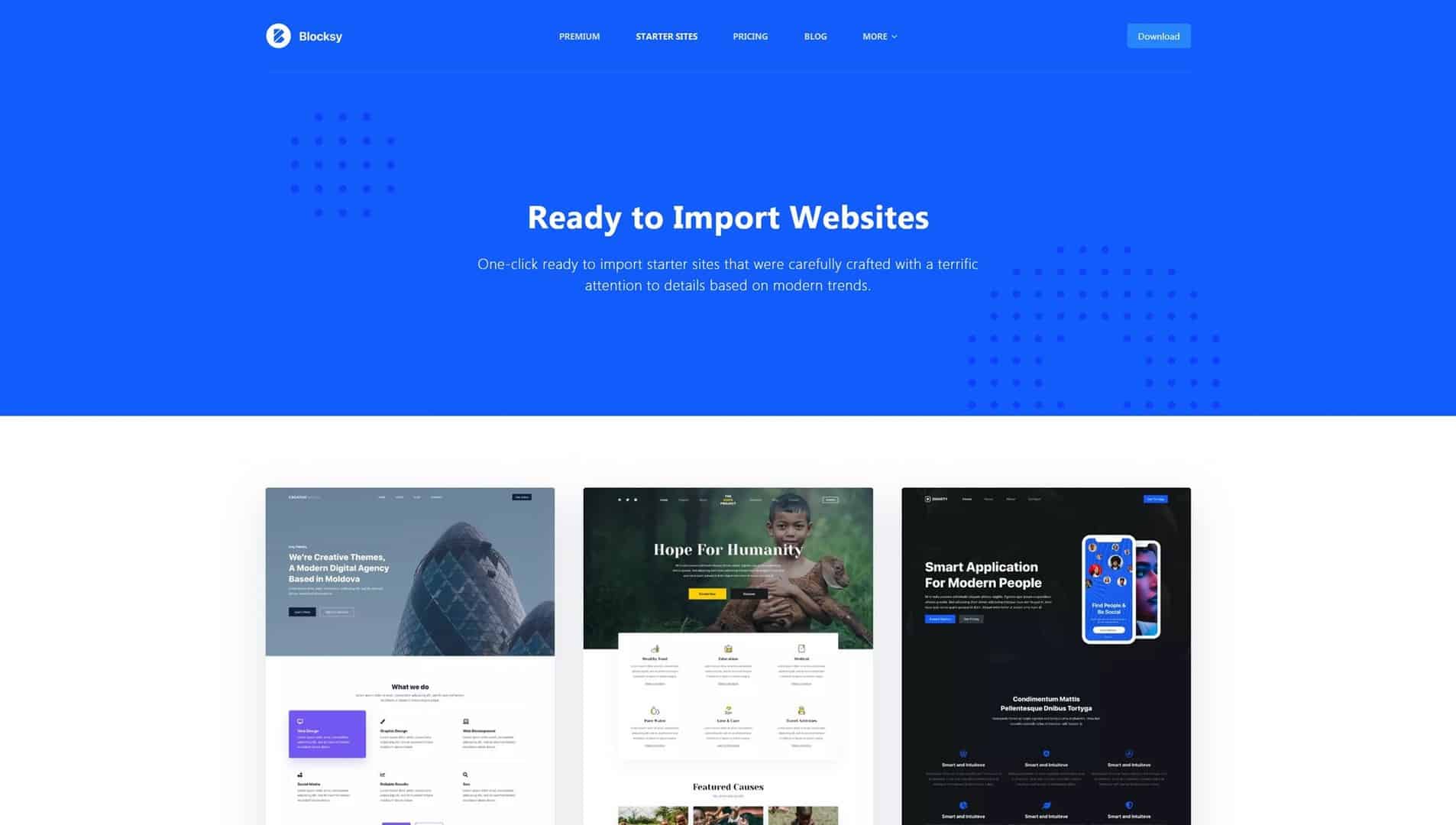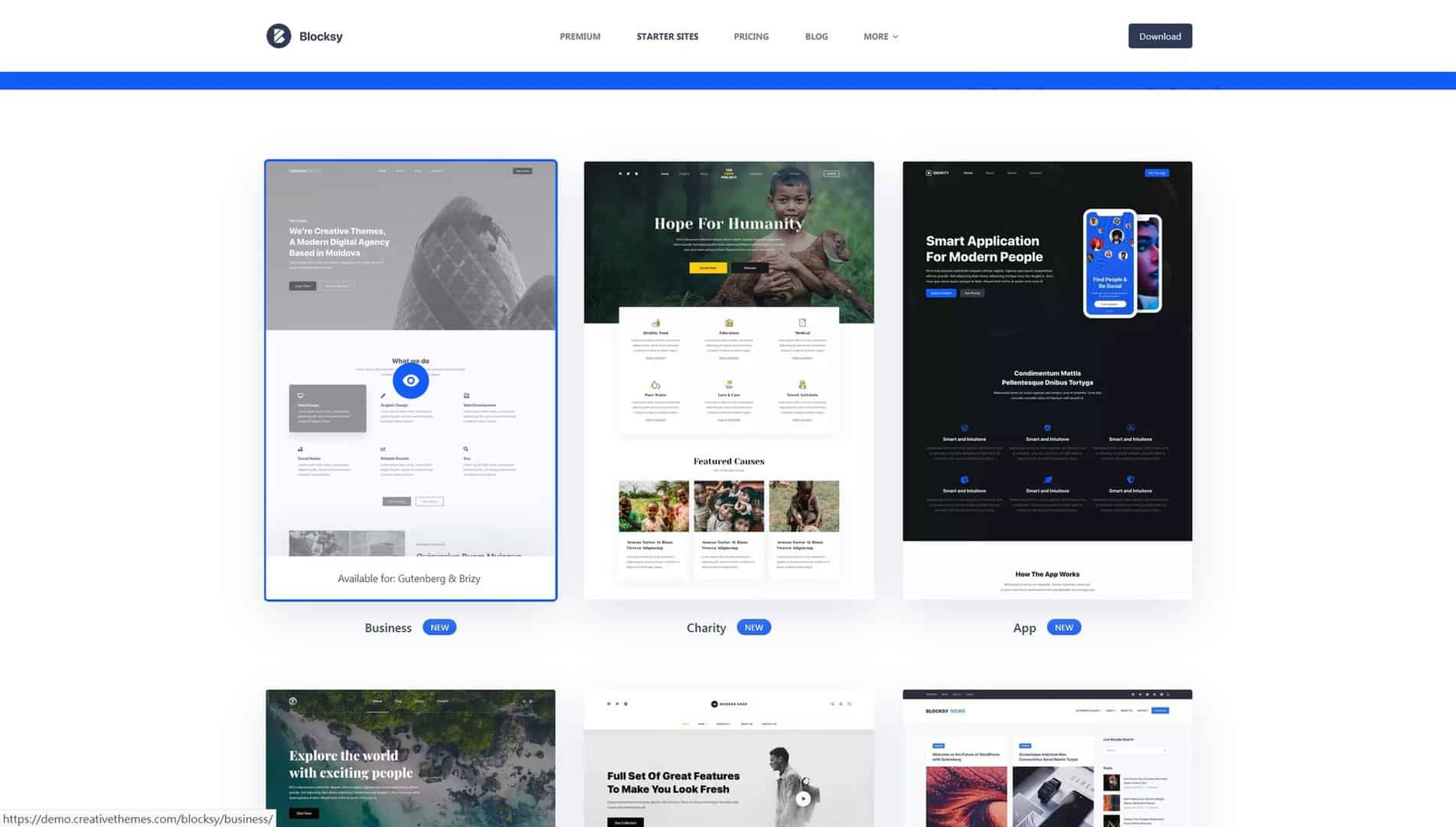 Official resources of Blocksy
Blocksy website: https://creativethemes.com/blocksy/
YouTube: https://www.youtube.com/channel/UCZhflWh24WFp5xrORUqgyzw
Blocksy – Free WordPress Theme Intro
Features in looking good design and well-crafted UI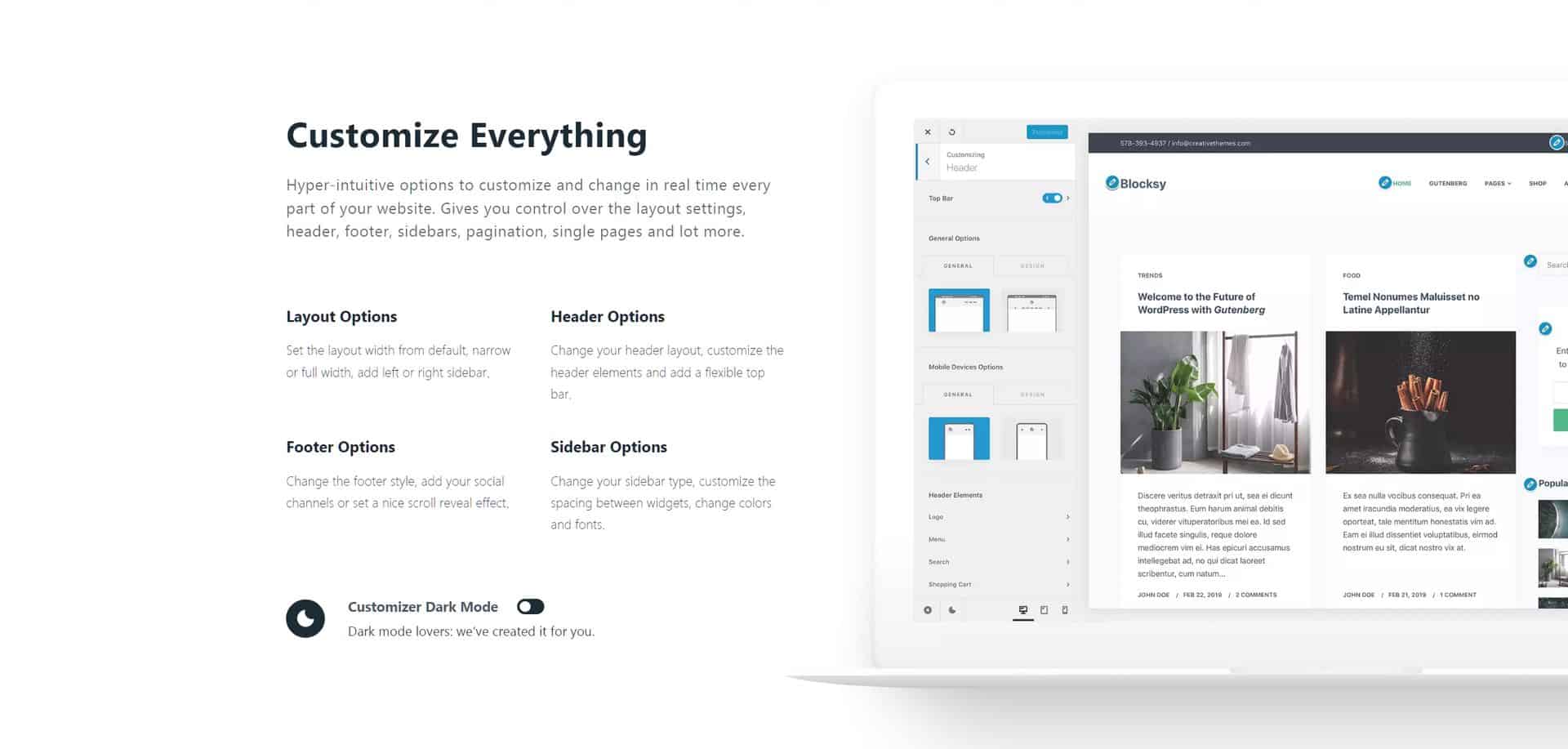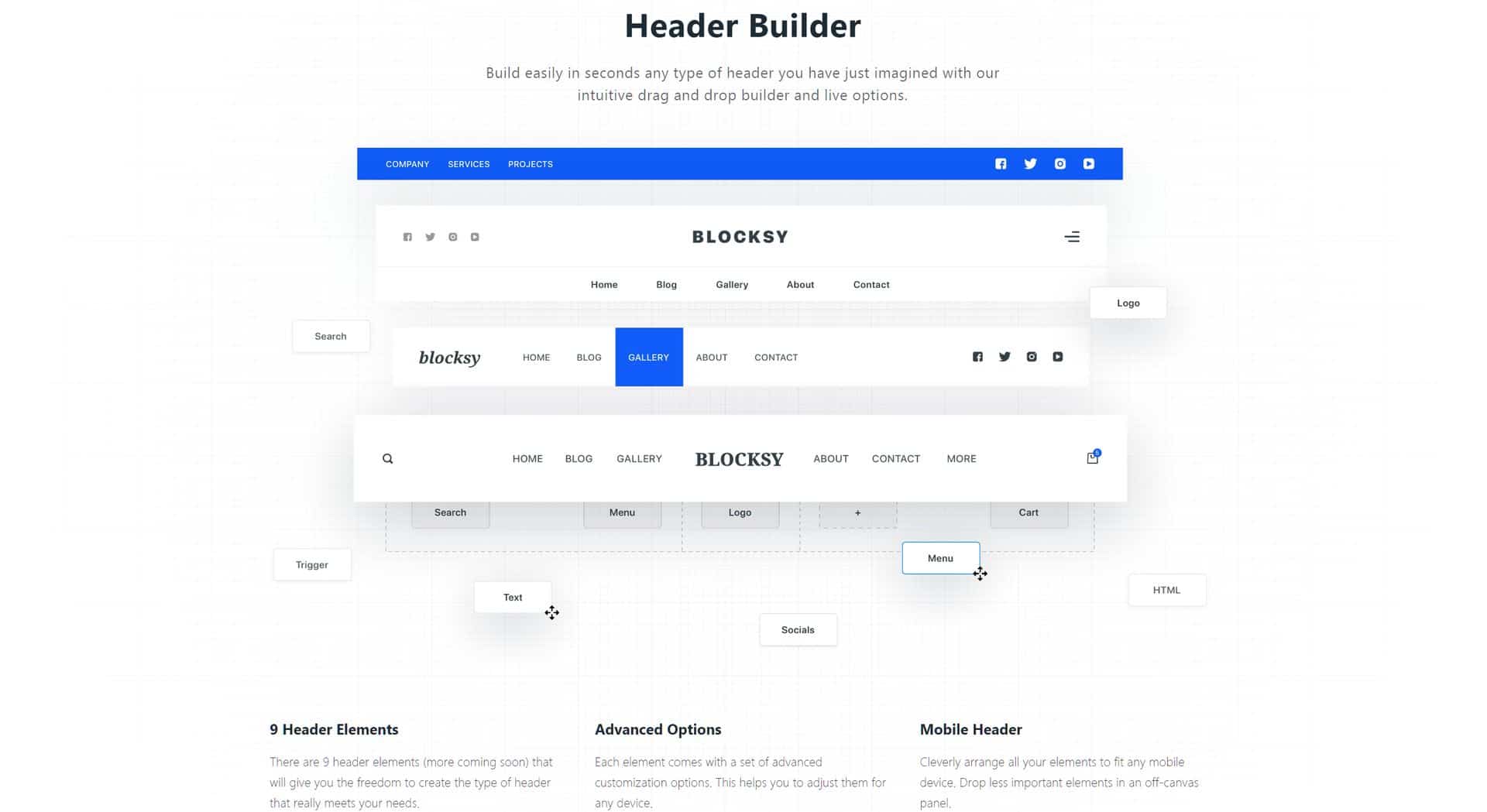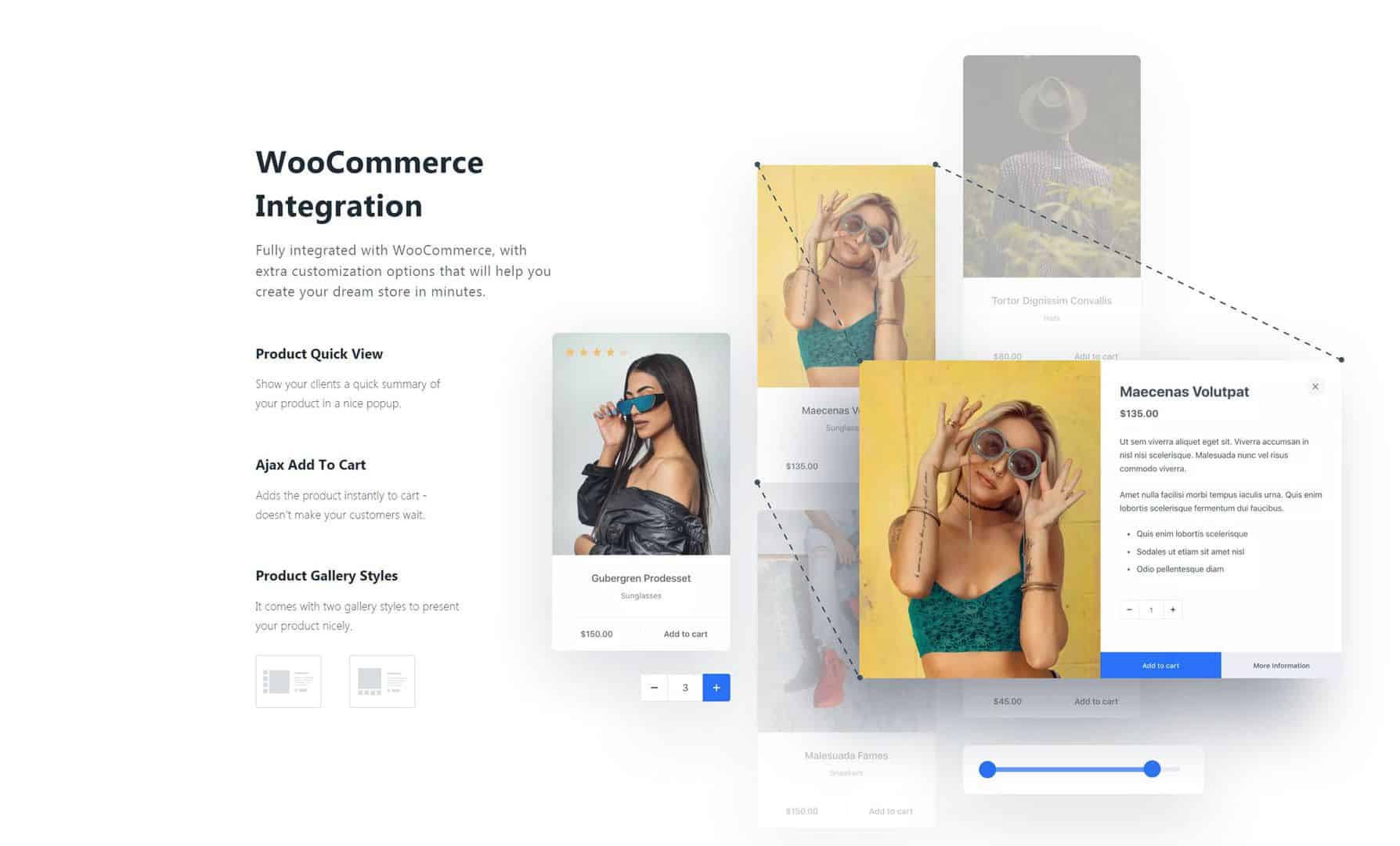 Even the changelog are well-designed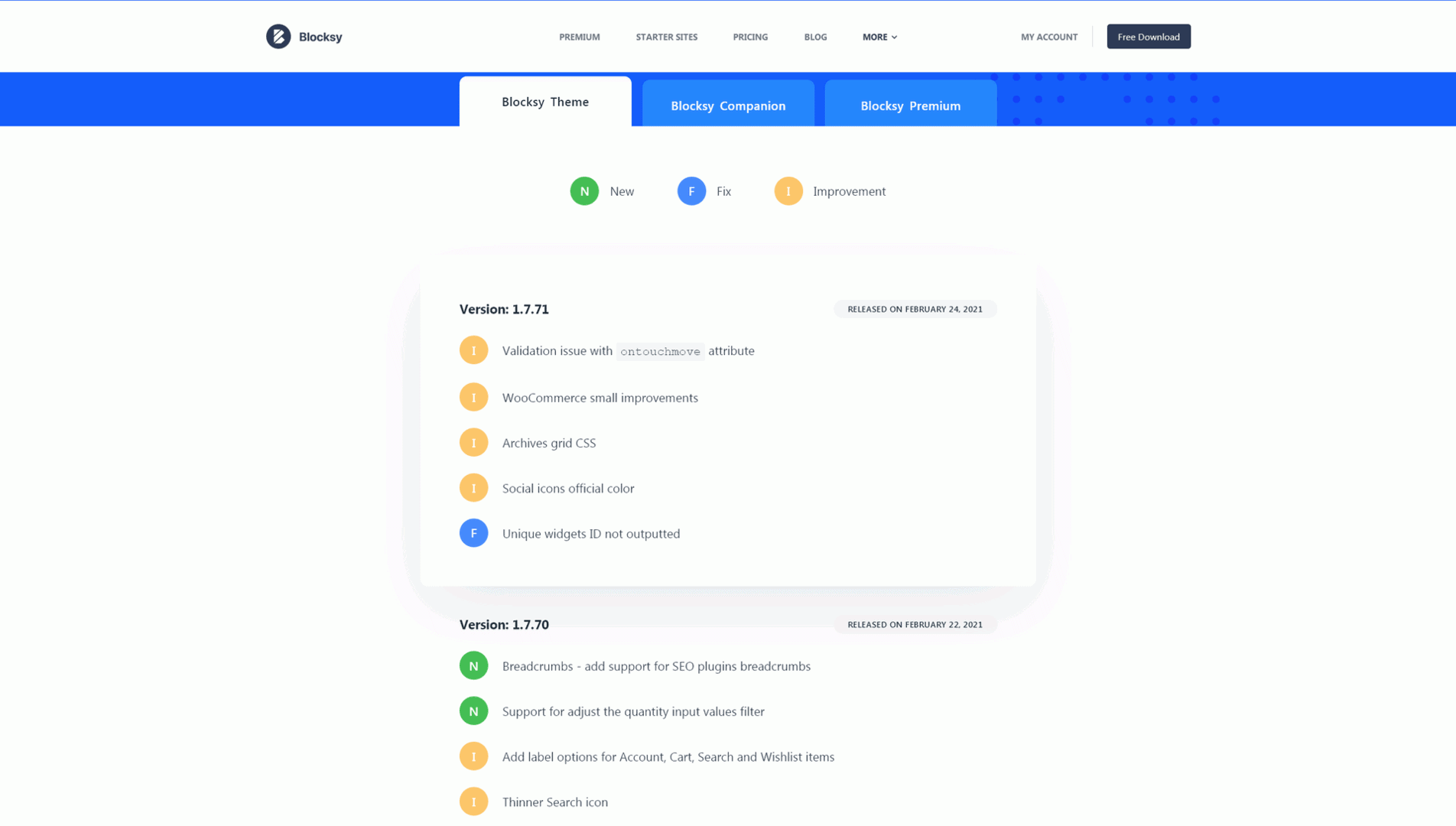 Conclusions
Astra and OceanWP are both well-known WordPress multiple themes, but they have been on the way toward Elementor.
Astra and OceanWP have been like a theme for Elementor, even stick to Elementor already, that's disappointed.

Some WordPress developers and users said so.
If you are focused on WooCommerce, then OceanWP is one of a choice for the purpose with premade functions and light weight. But that's almost the only one advantage of OceanWP because it seems haven't progress for a long time.
If the integration and website demo are the only top priorities for you, then Astra is a better choice than OceanWP with no doubt.
Why should you grab Blocksy Theme?
Blocksy is a solid WordPress theme and recommended for multiple purpose including WooCommerce website. Plus, Blocksy is the best choice if you'd like a WordPress theme which is highly integrated with Gutenberg and any third-party block editor like Stackble, Qubely, and Getwid.
Portfolio
Here's one of our new portfolio – a Jazz blog which is made with Blocksy theme.
Read Jazz
QR Code